Black Music Month: Plant-Based & Poppin'
Written By Aronya Waller
June is African American Appreciation Month, but it is commonly called Black Music Month. It was created in 1979 by President Jimmy Carter to celebrate the African American musical influences that have shaped the culture of this nation. African Americans have inspired and reframed musical genres throughout the ages. Some are more well-known, such as sacred music, rhythm and blues (R&B), jazz, and hip-hop. Other influences may not be as well known, but no less important, in rock and roll and military music genres. In honor of Black Music Month, Veggie Mijas is honoring Black musicians living a vegan, vegetarian, or plant-based lifestyle.

Dawn Richard is a singer and songwriter from New Orleans, Louisiana. Though she began singing in her teens, Richard gained popularity on Making the Band, where she became a member of Danity Kane. She is known for her work in the R&B, pop, and electronic genres. She grew up on crawfish, gumbo, and other New Orleans favorites, but she immediately adopted a vegan lifestyle after her father was diagnosed with cancer. She wants more people to understand the connection between the food on their plate and the animal that their food is sourced from. Richard explained being a vegan is not just your diet—it is your whole way of life. She said her entire life has changed. "I get up earlier; I want to exercise, I feel better, my skin feels better."

Image from Out
Known as the Queen of Neo-Soul, Erykah Badu is also an R&B and hip-hop performer. This singer, songwriter, and record producer was born in Dallas, Texas. She began honing her musical talent at the age of four by singing and dancing at the Dallas Theater Center and The Black Academy of Arts and Letters. Badu is a longtime vegan and advocate for healthy living in the Black community. She stopped eating meat during her senior year of high school in 1989. Badu then gave up dairy and eggs in 1997. "It's just what's best for my body," she said. "If I were a Lamborghini, I would want to put the best gas in it." She said her plant-based diet is mostly raw foods. She believes that the vegan lifestyle gives her energy and helps keep her centered.

Image from Vanity Fair
Jade Novah is an R&B and pop singer and songwriter who rose to fame covering songs on YouTube. She grew up in Cleveland, Ohio, where she sang in the church. She is an animal rights advocate, and she believes a vegan lifestyle has helped her and her husband maintain good health. So when a leather company approached her for an endorsement deal, she turned it down. "I won't endorse anything that is not vegan-friendly," she explained.
Image from SoulBounce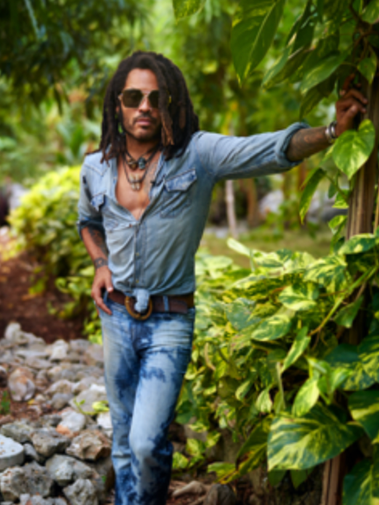 Lenny Kravitz is a singer, songwriter, and record producer from Manhattan, New York. His eclectic style incorporates multiple genres, including rock, blues, funk, jazz, reggae, psychedelic, and folk. When Kravitz was three, he began banging on pots and pans as if they were drums. By the age of five, he decided he wanted to be a musician, and he began playing the drums and soon added guitar. Kravtiz follows a plant-based lifestyle with a primarily raw diet emphasis. In addition, he uses his land in the Bahamas to grow his own food. "What we have is green and more green," Kravitz described his property. "We've got cucumbers, mangoes, broccoli, kale, salad greens. A great blessing of living here in the Bahamas is that I'm able to grow my food."
Image from Men's Health
Lizzo is a singer, rapper, songwriter, and classically trained flutist. Though she was born in Detroit, Michigan, she moved to Houston, Texas, where she began performing. She started flute training at 10 and rapping as a teenager. Lizzo is known for mixing her flute with her vocal genres of R&B, funk, pop, soul, and hip-hop. In June 2020, Lizzo told her TikTok followers that she was a vegan. She had previously followed a vegetarian diet for seven years. "As a new vegan, I'm enjoying exploring flavors from plants & plant-based proteins! Every journey is personal & deserves to be celebrated," she wrote.
Image from Delish
Mýa is a singer, songwriter, and music producer from Washington, DC. She performs R&B, hip-hop, soul, and pop. Her initial love was dancing, and Mýa did not focus on her vocal talents until 15. She has been outspoken about animal rights and living a plant-based lifestyle. She first became a vegetarian as part of a six-month challenge in 2010 and then became a vegan as part of another six-month challenge in 2014. She loved her new diet so much that she stuck with it. The R&B artist credits her plant-based diet for helping her beat anemia. "I thought you had to have meat to have protein and get your iron, and that's just false information," she said. She explained that she no longer gets sick since removing animal products from all areas of her life and thanks to her healthy diet for her clear skin and "fountain of youth."
Image from Vegan Food & Living
RZA, from Brooklyn, New York, is a rapper and music producer. He is most known for being a member of the hip-hop group Wu-Tang Clan. RZA believes living vegan is vital for a better tomorrow, and he thinks everyone should consider becoming vegan for overall better wellbeing. "I think hip-hop has become more conscious about diet," RZA said. "You are what you eat, so if this cow who is stressed, dumbfounded, sick becomes your meal, when you eat it, you are eating that stress and sickness. You are eating that fear. My peers and people that are related to me appreciate the vegan lifestyle; it's spreading." In 2018, RZA launched his own vegan lifestyle company, 36 Chambers. The collection features music, clothing, and art that does not use any animal leather or animal by-products.
Image from AP News
Styles P is a rapper from Queens, New York. He is best known for being a member of the hip-hop group, The LOX. Recently, Styles P has been advocating for healthier eating habits within the Black community. "A plant-based diet kinda makes your soul lighter," he said. "I had a newfound respect for all life." He wanted to extend how a plant-based lifestyle worked for him with marginalized communities. Styles P and fellow LOX rapper Jadakiss opened multiple juice bars in New York. They knew Juices for Life would be a great place to offer healthy, plant-based options to urban communities.
Image from Genius
Stevie Wonder has been called a musical genius for his work as a singer, songwriter, musician, and record producer. Born in Saginaw, Michigan, Motown Records signed the child prodigy at the age of 11. He is one of the most successful musicians, and he revolutionized R&B with synthesizers and other electronic instruments. He is credited as a pioneer and influencer in R&B, pop, soul, gospel, funk, and jazz. Stevie became vegan in 2016 for both health and environmental reasons, and he is passionate about sharing veganism to protect the future of our planet. "We have to be about making our planet greener, the urban areas more sustainable for the children," he said. "We can't just talk about it; we have to be about it."
Image from Rolling Stone
will.i.am is a rapper, singer, songwriter, and record producer. He is the founding and lead member of the musical group Black Eyed Peas. Born in Los Angeles, California, will.i.am is known for his use of multiple music genres, including hip hop, house, pop, and neo-soul. He began his music career in eighth grade as part of a socially conscious rap group. He first went vegan in 2017 after being diagnosed with high blood pressure and cholesterol. He later found unexpected health benefits. Since then, he's become an animal advocate speaking against the meat industry. "For many years, I would go to sleep and wake up tired," he described. "That's because my body was processing. God knows what type of crazy, wicked sh*t…[T]here's a force, a dark force, out there that is doing a very good job of keeping us all sick."
Image from LIVEKINDLY